2022 has been one of the most memorable years in decades for the horror genre. The year has been filled with many successful horror movies to entertain and scare audiences, both in theaters and on streaming platforms. While the big horror event of 2022 was Halloween Ends, there has certainly been no shortage of great horror entries that might even stand above the final showdown between Michael Myers and Laurie Strode by year's end. These are the best horror movies from 2022.
Searchlight Pictures
Filled under the category of comedy/horror, The Menu works as a critique of foodie culture in social media and the slow decaying depreciation of cooking as a craft for the sake of aesthetics. The film revolves around a special dinner hosted by celebrity chef Julian Slowik, whose mastery of the cooking arts has relegated him to an exclusive restaurant where it's possible to attend by booking ahead by months. Written by Seth Reiss and Will Tracy, the movie is directed by Mark Mylod. It features the talents of Ralph Fiennes, Anya Taylor-Joy, Nicholas Hoult, and John Leguizamo.
The evening goes as expected until all the diners begin to be targeted by the chef in each course. The deconstructed dishes illustrate the failures and secrets of everyone on the floor, including the chef and his assistants. Tyler Ledford (Hoult) and his date, Margot (Taylor-Joy), are the final targets of the chef. He singles out Ledford as the type of customer he despises the most, as he's all about prestige and not the eating experience as it is. Margot takes notice and makes the most brilliant move by all present customers to escape death.
18

Smile
Paramount Pictures
This horrific physiological thriller was made with a meager budget of $17 million. Smile is based on the book Laura Hasn't Slept by Parker Finn. The author proved he had the chops to make a solid horror film by adapting his story into a script and directing the movie himself. The final result is one of the most staggering original stores ever adapted, with a massive box office gross of $217.4 million. The film also had one of the most unusual marketing campaigns ever put in motion, with cast members appearing on social media while smiling directly at the camera in public places.
The story begins with therapist Rose Cotter (Sosie Bacon). Cotter must tend to graduate student Laura (Caitlin Stasey). She relates the story about the suicide of one of her teachers and how the entity that provoked her teacher's death is now following her. Laura becomes wildly agitated, stating the entity is with them in the room, but Bacon cannot see it. The commotion suddenly stops when Cotter finds Laura smiling directly at her without blinking and proceeding to cut her own throat. It's up to Rose to find out what happened before the entity comes to claim her life.
17

M3GAN
Universal Pictures
Mixing up horror with science fiction always works for the best, especially when AI is taking over the conversation across the web. M3GAN is one of the many reminders crafted by Hollywood, telling a cautionary tale about the search for profits by tampering with forces we can't hope to comprehend fully. With a screenplay by Akela Cooper, the film is directed by Gerard Johnstone and features a cast of working faces such as Allison Williams, Violet McGraw, and Ronny Chieng. The movie officially premiered in December 2022.
Related: You Can Watch These Great Horror Movies for Free on YouTube
In the movie, a toy designer named Gemma is tasked with producing the next best thing after a product with an eerie resemblance to the Furby is replicated by the competition for a lower price. She must face the challenge while caring for her recently orphaned niece Cody. Gemma goes over his boss's orders and finishes the design on a much more expensive product offering a unique experience: M3GAN, an AI-powered android with learning parameters encoded in her programming. Slowly but surely, Cody seems to be developing a close relationship with M3GAN, who will do anything in her power to assure Cody is safe, even if it means harming people.
16

Don't Worry Darling
Warner Bros. Pictures
Olivia Wilde made her bones in Hollywood as a pretty face until she stepped up to the plate by proving she could direct. She didn't follow the easy path, as her second feature is a horror story. Don't Worry Darling is not an easygoing offering; taking a cue from The Stepford Wives, the film offers plenty of social commentary about male power fantasies and the crumbling facade of all-American social values.
The film begins with Alice and Jack Chambers, a couple living in an idealized version of a company town named Victory. Alice spends her days doing house chores and being the perfect wife until an incident with another resident makes her realize that not everything is as it seems in this ideal world, and it's up to her to find its secrets. The solid cast features Florence Pugh, alongside Harry Styles, Chris Pine, and Wilde herself.
15

Speak No Evil
Nordisk Film
Written and directed by Christian Tafdrup, this underrated piece of cinema went unnoticed by American audiences for being a foreign film. However, Speak No Evil is a harrowing exploration of the horrors hidden behind human nature featuring an all-Danish cast. The movie begins with a family enjoying a vacation in Tuscany when they meet a Dutch couple and their son. The families bond over being foreigners visiting and living in a different land than their own. When the Dutch couple invites the Danish couple over for dinner, the true horror begins.
The Dutch couple proves to be the most unnerving hosts ever by displaying disturbing behaviors from mild nuances such as lack of consideration for medical conditions to intrusive actions such as the entrapment, torture, and killing of the couple's kids. The film is an encompassing spectacle that offers viewers deep insight into the submissive nature of people who see themselves as defenseless. The final scene offers a shocking revelation rooted in the basic premise that allows evil people to do as they please.
14

Piggy
Filmax
Another foreign offering, this time around, from Spain. Piggy (or Cerdita) is a straightforward story about bullying and its consequences. The film is written and directed by Carlota Pereda, who offers a nuanced view of everything that happens in the mind of someone who finds herself suddenly in a position of power after being relentlessly abused by her peers at school. Sara is the fat girl of the school; she is constantly demanded and despised for her looks but holds her anger in the quiet.
After mustering the courage to visit the local pool, she tries to enjoy her time, but the bullies make her time difficult by stealing her clothes and taking her backpack with all her possessions. After walking back home in her undies, she notices a van on the side of the road where her bullies are being kept as hostages. After retrieving her possessions, she decides to leave them to their fate, but the townspeople will not let the girls be lost that easily. Sara then must determine her course of action, as she's faced with the choice of saving the people who make her life miserable or letting them die.
13

Terrifier 2
Bloody Disgusting
This is a direct sequel to the first film and the next chapter about Art the Clown. Terrifier 2 was made with the same production values as the first entry, but it rams up the fantastic elements to elevate the experience and make Art feel more like a supernatural force of nature that can't be tamed. Written, directed, and produced by Damien Leone, the story begins where the last film left off. Art is taken to the coroner for a formal autopsy when the demonic clown is suddenly brought back to life. Wasting no time, he makes short work of the coroner in the bloodiest way possible.
While the film never explores Art's background, it places us in his state of mind, as Art also sees a girl version of himself following him around. Meanwhile, a girl named Sienna is building a cosplay based on a character created by her late father. Unbeknownst to her, the character has the power to end Art as it's imbued with special abilities that manifest after Sienna wears the costume. It's a fantastic film that clocks around one hour too long, but it's full of hijinks and murderous madness, like the old slashers of the '80s.
12

Orphan: First Kill
Paramount Pictures
The prequel to the 2009 surprise hit Orphan, Orphan: First Kill seems like an impossible task. Not only is Isabelle Fuhrman reprising her role (now being 25 and needing to look younger than she did in 2009), but also, the initial twist of the first film is known by audiences going in, so how can a new film be exciting? Luckily, Orphan: First Kill manages to solve both problems, fixing the first issue by using clever film techniques to make Fuhrman look younger with no CGI de-aging used.
The movie also uses the audience's knowledge of the first film twist to lull the audience into thinking they know how this will play out, before swerving with another twist on top of this origin, capturing the spirit of the original film. Orphan: First Kill received positive reviews from critics and took Paramount by surprise as, while it was originally set to release on Paramount+ exclusively, they underestimated the love the first film had grown over the years and the film was performing well in the limited release it began to expand out more in the following weeks.
11

X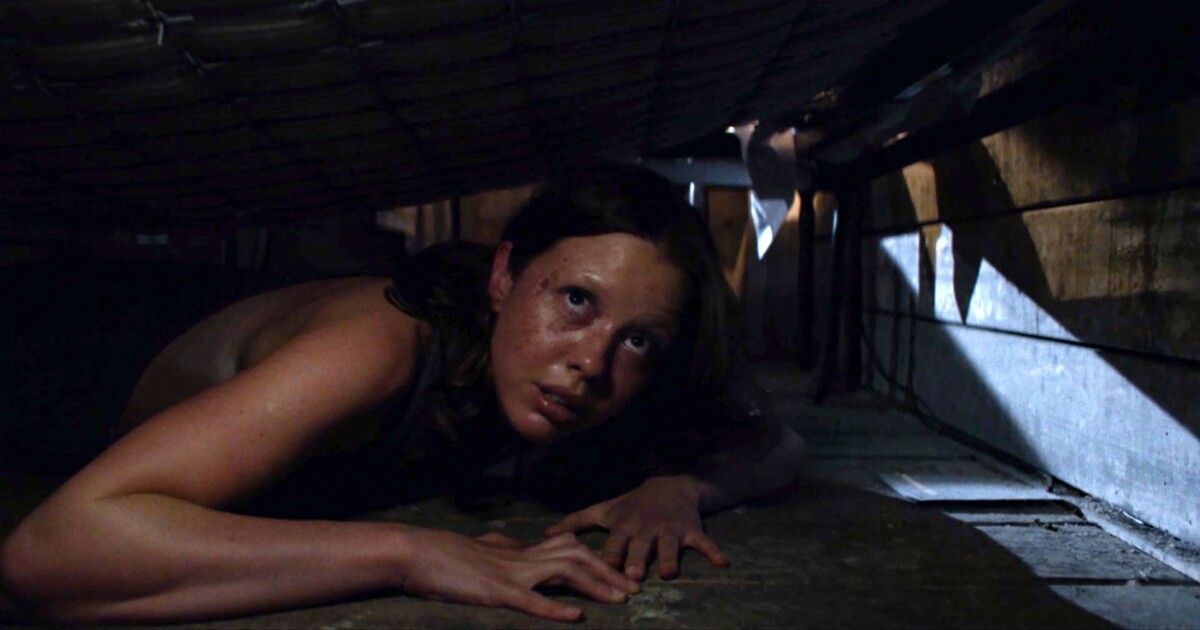 A24
Released by A24, X follows the cast and crew of an adult movie in 1979, who are filming on an elderly couple's rural Texas property, and eventually find themselves picked off one by one. X in many ways was the perfect antidote for the disappointing Netflix sequel Texas Chainsaw Massacre which was released two months prior to X. Ti West's film captures the tone and spirit of the original Texas Chainsaw Massacre film, a grimy, dirty-looking slasher film that concerns a group of young people being killed by a group of older individuals in the Texas summer.
X was a success of sorts, earning $14 million against a $1 million budget and earning rave reviews from critics. While filming X, director Ti West and star Mia Goth filmed a prequeltitled Pearl, which was released on September 16, 2022, making for a great double feature for audiences this year.
10

Scream
Paramount Pictures
2022 has earned Jenna Ortega the title of modern Scream Queen, with the back-to-back releases of X and Scream. Released 26 years after the original and 11 years since Scream 4, Scream marks a return for the franchise and riffs on the recent array of legacy sequels that have become popular in Hollywood. With an emphasis on a new cast of characters, for the first time since Scream 2, the returning characters of Sidney Prescott, Dewey Riley, and Gale Weathers all seem in danger. The movie also tackles dark themes of toxic fan culture, building off the themes of the previous four entries in the franchise.
Scream was a box office hit when it was unclear if Spider-Man: No Way Home was a fluke for the post-pandemic box office, and proved audiences were looking to return to the movies. Scream also was the first in a long line of successful Paramount Pictures releases that put the studio back on track. Scream 6 has recently wrapped filming and is set for release on March 31, 2023.
9

Resurrection
IFC Films
Resurrection is a psychological thriller about a woman named Margaret (Rebecca Hall) who is trying to maintain her orderly, successful life. Suddenly, her abusive ex-boyfriend David (Tim Roth) reappears in her life, taunting her with traumatizing reminders of her past. Speaking of trauma, that's really what this movie is about. It takes a layered approach to explore the ways that trauma and psychological abuse can stick around and torment you even years after an event.
It's dark and intense, with fantastic performances, namely from Hall. It's a very captivating movie that can certainly make you uncomfortable, but it's so well done you can't help but keep your eyes locked on the screen until the end.
8

The Black Phone
Universal Pictures
The Black Phone was Scott Derrickson's film following up on his departure from Doctor Strange in the Multiverse of Madness. The movie is an adaptation of the short story of the same name from author Joe Hill, the son of legendary horror author Stephen King. Fittingly, The Black Phone feels very much in the spirit of many classic Stephen King adaptations like Carrie, It and Salem's Lot.
The film follows a young boy in the 1970s who has been abducted by a masked villain known as the Grabber, who holds boys captive and psychologically tortures them before murdering them. While The Black Phone might lack jump scares, it makes up for it with its atmosphere, and an unsettling, terrifying performance by Ethan Hawke.
7

Bodies Bodies Bodies
A24
Bodies Bodies Bodies was another A24 horror film and a late summer surprise. The movie centers on a group of young 20-year-olds who gather at a mansion to wait out a hurricane, and when they decide to play a party game things go bad as deep-seated resentment rises to the surface and one of them turns up dead. Led by an incredible cast that includes Amandla Stenberg, Maria Bakalova, Myha'la Herrold, Chase Sui Wonders, Rachel Sennott, Lee Pace and Pete Davidson, Bodies Bodies Bodies is a great satire both about and for Gen Z, while also making for a captivating mystery with enough turns to leave the audience guessing till the very end.
6

Fresh
Hulu
Fresh is definitely one of the most interesting releases so far this year. It's about a woman named Noa (Daisy Edgar-Jones) who meets an intriguing guy named Steve (Sebastian Stan) at a grocery store. Noa is pretty jaded from the online dating scene, so she and Steve exchange numbers and go out on a date where they really hit it off. However, things fall apart pretty quickly when — without spoiling things — Steve turns out to be the exact opposite of what Noa thought he was.
Fresh is a very original entry to the horror genre. It's well-written and well-paced, and the characters have such a strong, believable chemistry that every scene is enjoyable and interesting. It's not necessarily a movie that's going to scare you; rather, it's a little unsettling and may make you question your online dating activity.
5

Men
Entertainment Film Distributors
Men is a British horror film directed by Alex Garland, known for writing The Beach and directing films like Ex Machina. It's about a widowed woman named Harper (Jessie Buckley) who travels to a countryside village for a holiday — or vacation — but then she starts getting tormented by the men in the village, all of which are played by Rory Kinnear. This movie is super creepy from start to finish and has an incredibly high shock value. It's one of those movies that really pushes the boundaries and doesn't leave any stone unturned, as if its main goal is to make your jaw drop over and over.
Men is a very complex, layered movie full of metaphors. It's definitely one of those films that you'll likely have to watch more than once to truly understand, and even then, it's even more likely that everyone will walk away from it having reached a different conclusion about its meaning.
4

Smile
Paramount Pictures
Smile is a psychological horror film that went viral on social media following its release for being "one of the scariest movies" people had ever seen. It's about Rose (Sosie Bacon), a therapist who witnesses one of her patients commit suicide and is then haunted by disturbing, unexplainable hallucinations and experiences that eventually lead her to believe something evil and supernatural is happening.
Smile is a horror film which actually knows how to use jump scares, with effective supernatural entities and a surprisingly bleak, nihilistic ending. The performances are top-notch, and the visuals are extremely vivid. It may not be the scariest movie ever made (as advertised), but it'll certainly leave you feeling creeped out, especially from the menacing, piercing smiles featured throughout the movie.
3

Prey
Hulu
The latest entry in the Predator franchise, Prey has been a big shot in the arm the series needed. The original Predator was an action-horror movie hybrid, and later entries in the franchises tend to up the action. However, Prey steers more into the horror genre by focusing on a Comanche warrior in 1719 encountering a Predator.
Related: The Most Expensive Horror Movies Ever Made, Ranked
The film highlights both the horror of the alien threat with also the human threat of colonist fur traders. The great open landscape makes for both beautiful images but also a feeling of isolation, highlighting the horrors beyond the vast unknown. For those who wish the Predator franchise was a little scarier, Prey is the perfect remedy for that.
2

Nope
Universal Pictures
While most people associate horror movies with low budgets, Jordan Peele's latest film Nope harkens back to the grand horror epic. While most people associate the summer blockbuster with films like Star Wars and Raiders of the Lost Ark, it was in fact the horror film Jaws that truly launched the blockbuster era. Nope has many similarities to Jaws, flipping a man-eating shark in the water with a predator of the sky from another world. Nope is a horror film on a massive epic scale.
Nope is also a commentary on the notion of spectacle, needing to capture it at any cost, be it tabloid culture, or filming viral videos, no matter the cost or the people's space one intrudes on. Nope is a film Jordan Peele had been building up to, and just like Get Out and Us, Nope just gets better the more times you watch it.
1

Barbarian
20th Century Studios
Barbarian is a twisty horror film written and directed by Zach Cregger (who was actually a comedian behind Whitest Kids U'Know), serving as his debut. It focuses on a woman (Georgina Campbell) who finds out that a rental she reserved was double-booked with a man (Bill Skarsgård), who is already settled in when she arrives. Based on this start, it feels like the movie is headed in one direction, but neither guest knows about the secrets in the home, and they have no idea the ride they're in for — and as the audience, neither do you.
The twists in this movie are bonkers. As soon as viewers think they know what's going to happen next, the film stops you in your tracks with its unpredictable surprises. It's a slow build-up but ultimately a really off-the-wall watch. It's best to go into Barbarian blind and experience the movie with absolutely zero information. It's a major thriller, complete with solid scares and great performances, so it's no wonder Barbarian has performed so well since its release.